As an entrepreneur, you face the challenge of marketing yourself, your products, and your services to your target audience. And you do this in a competitive online world. Getting noticed above the crowd and in front of the right people can be one of the biggest challenges you'll face as a business owner.
Whether you're an established business or just starting your entrepreneurial journey, you need an efficient marketing and communication strategy to increase the effectiveness and success of your marketing efforts.
Marketing communications strategy is the strategy of using different marketing channels to promote your online business and enhance your brand image to your target market.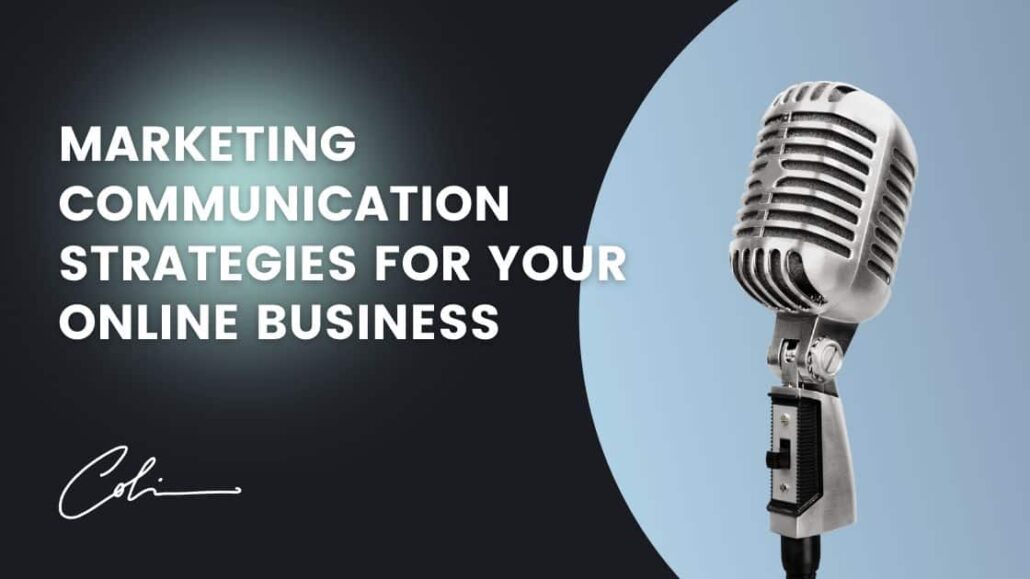 When you plan your marketing communications strategy, you'll want to consider the types of communication channels available to you and which ones best suit your business needs.
Depending on your business, you may find social platforms, such as Twitter and Facebook, are great for creating a buzz about your product or service, or maybe it's video content your audience responds to, so YouTube and TikTok may offer a better return on investment.
You could use search engine optimization (SEO) techniques to ensure that your website appears at the top of search engine results pages (SERPs), which will help potential customers find you more easily.
By using a variety of marketing channels, you can create a strong communications strategy, which will help you reach a wide audience and promote your online business effectively.
Do I need a Marketing Communications Plan?
There's no one-size-fits-all answer to this question, as the need for one depends on your business's specific goals and objectives.
However, in general, the success of a brand or business is greatly improved by having a well-defined marketing communication plan. A strategy helps you to better connect with your target audience and achieve your desired results.
Every business owner should know what their brand stands for, its goals, and who they are selling to.
Knowing this will help you discover where your audience hangs out, so you can use the right channels to reach them. A strategy will help you plan your marketing activity to help you create an effective promotional campaign and send the right message to the right people.
A strategy will help your business decide the right marketing materials to use and how best to spend your marketing budget. It will help ensure every marketing activity you do has a purpose and prevent you from wasting money on ineffective marketing.
A communications strategy will give direction, intention, and purpose to your marketing efforts.
What is an Integrated Marketing Communications Strategy?
The goal of an IMC strategy is to create a cohesive and consistent message across all channels of communication in order to maximize the impact of the marketing campaigns.
An IMC strategy typically includes a detailed plan that outlines the use of various marketing tools and tactics and how they will work together to achieve the desired results. It ensures the content of the brand message stays consistent throughout each marketing process.
Common elements of an IMC strategy include advertising, public relations, digital marketing, and social media marketing. The strategy involves using a consistent brand message as part of your marketing. Effective integrated marketing is going to improve your chances of reaching the right audience.
The word 'integrated' is the most important. It means focusing on the coherence of your efforts, and how one channel compliments another in the customer journey. Think about your clients visiting your website, then listening to a podcast and receiving an email from you. None of these things alone creates a buyer. It is the combination of these where the magic happens.
I've lost count of the number of conversations with clients who are busy bees on social media, throwing out lots of content, but nothing ever comes of it, no clients, no sales, nothing. This is simply because you need to create coherence in everything you put out into the world. Your messages and content should be intentional in leading prospects toward purchasing your services.
How to develop a marketing communication strategy
The best way to develop a marketing communication strategy will vary depending on what you offer, your target audience, and the overall goals of your marketing campaign.
However, there are some general tips that can be followed in order to create an effective marketing communication strategy.
Clearly define the objectives of the marketing campaign. What are the goals that need to be achieved? Once these objectives are established, the target audience can be identified.
Who are the potential customers or clients that will be most interested in what is being offered? Once the target audience is identified, it becomes easier to determine which communication channels will most effectively reach them. Remember to fish where the fish are. Choose the channels they already hang out on.
Create a clear and consistent message that can be conveyed across all of the chosen communication channels. The message should be attention-grabbing and relevant to the target audience, and it should clearly communicate what is being offered and why it is worth their time and attention. Focus on the outcomes that you deliver to your clients. The valuable content you create helps deliver that outcome.
Plan how it will be delivered, including who will be responsible for each task and when each task needs to be completed. Remember, even as a solopreneur, you don't have to do everything yourself. You don't have to hire a whole marketing team, but outsource the work which you don't enjoy or is not your skill set. Stay focused on what you do best, your zone of genius.
Discover your unique selling proposition (USP)
What is your unique selling proposition (USP)? What makes you different from your competitors? Take some time to uncover your USP and ensure it is clear to your potential customers.
It could be your experience and knowledge, product quality, or unique coaching approach. Whatever it is, make sure it is clear and easy for customers to see. Often, your USP can be found in the lens through which you see the world. Share your unique interpretations of the information in your field. Give your take on things in your content and messaging. This serves two purposes. It establishes your authority in the field, and it also positions you as the go-to person for help with these things in the reader's mind.
A strong marketing communications strategy that includes your USP is going to increase the visibility of your brand or product and make you stand out among your competitors.
Create your own marketing communications strategy
The key here is to tailor your approach to fit your specific business goals and objectives. To do this, you'll need to consider your target audience, your budget, and the channels that will best reach your audience.
Once you clearly understand these factors, you can start developing a plan that will result in successful marketing and help you achieve your desired results.
To ensure your strategy is working effectively, you'll want to align it with a content marketing plan. This will also help align any new marketing you do, keeping the message consistent throughout.
Discovering which channels are best for you can be a game of trial and error. Test and measure results to see what's working. Below are the channels I have found effective while working with mission-driven entrepreneurs in the online coaching and digital courses space.
7 Effective Types of Marketing Communications Channels for Online Entrepreneurs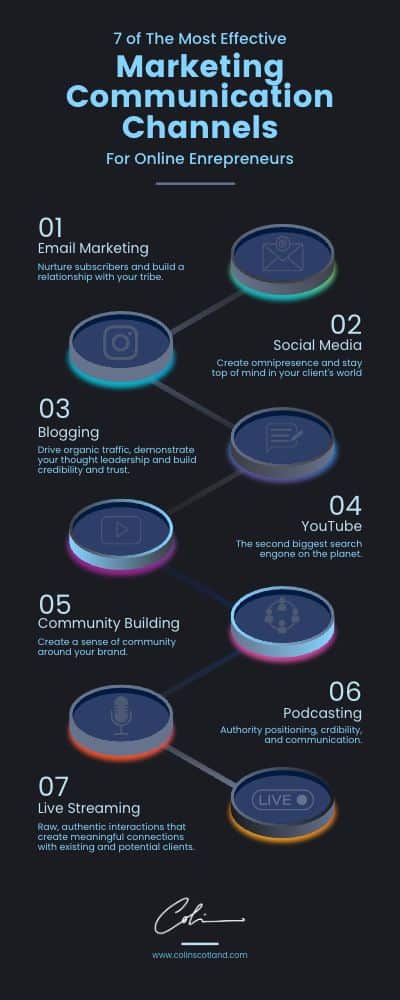 Email Marketing
Email marketing is a great way to reach out to your target audience and communicate with them directly. By sending out regular emails, you can stay top of mind and build a relationship with your list to nurture new contacts and generate sales. Plus, email is a highly effective way to drive traffic to your website or blog.
Don't be put off by thinking you are 'spamming' or email is dead (check out my blog here to understand why this is far from the case!). Email is very much alive, and you should give your audience the opportunity and a reason to join your mailing list.
Social Media
Social media has become an increasingly popular marketing channel in recent years. It allows businesses to reach a large audience quickly and easily and can be a cost-effective way to promote your offers.
When used effectively, social media can help to build brand awareness, generate leads, and even boost sales. However, you need to ensure you are using the right social media platforms for your business. Don't waste time, energy, and money on Facebook if your audience is hanging out on Instagram!
Blogging
Blogging is a great marketing channel because it allows you to provide helpful, educational, and informational content for your audience.
By seeking to understand what your audience is asking, you can provide blogs to guide, advise, and share useful information. Doing so can help you build trust and relationships with your readers.
Blogging is a great way to drive traffic to your website. Search engines, such as Google, love content that helps the reader. By writing blogs filled with helpful content and using the right keywords and phrases, you'll improve your SEO (Search Engine Optimization) and start ranking in searches made by your target market.
My many marketing blogs are key to driving organic traffic to my website and filling my funnels with leads and potential clients. I strongly recommend throwing blogs into your marketing mix.
YouTube
YouTube is a powerful marketing channel that can be used to reach a wide audience. It offers businesses the ability to create and share engaging video content that can reach many people quickly and easily.
YouTube can be used to promote products and services, raise awareness of your brand, and drive traffic to your website. Similar to blogs, it's a channel that allows you to show yourself as an expert in your field and builds trust in you and your brand.
Community Building
Community building is a marketing channel that helps businesses to connect with their target audiences and create a sense of community around their brand.
It can be used to build relationships, engage customers and prospects, and create loyalty and advocacy. When done well, community building can be an effective way to drive business growth.
Facebook groups are an example of building a community online. Imagine you create a group that provides information, shares knowledge, and is a safe and trusted space… What do you imagine happens when you launch a new product or service and tell your group about it? More sales! They know you and trust you, which means they are more likely to buy. Your community becomes the seeding ground for new clients, repeat clients, and referrals.
Podcasting
Podcasting has emerged as a powerful marketing channel in recent years. By creating and distributing engaging audio content, you can reach a wide audience of potential customers.
The beauty of a podcast is it takes very little effort for the listener to engage. If you're producing audio content in your field of expertise, your audience only needs to tune in while they are in the gym, in the car, or sitting at their desk.
Podcasting can be an effective way to build brand awareness, and trust is built between the podcaster and the audience, again making the decision to buy from you an easier one.
Live Streaming
Live streaming is a great marketing channel because it allows you to connect with your audience in real-time. You can use live streaming to deliver speeches, product demonstrations, or even just hold informal conversations with customers and prospects.
This is also a great way to build relationships and engage with your audience on a personal level. As an entrepreneur, there's a good chance YOU are your business, so helping them feel close to you is going to better position you when they are ready to buy. Live streaming can be a great way to engage your audience in an authentic and meaningful way.
How to Determine the Best Marketing Communication Channels
There are many factors to consider when determining the best marketing channels for your business. Some of the most important factors include your target audience, your budget, and your overall marketing goals.
Think about:
Your target audience. This is the first and most important factor to consider. You need to determine where your target audience spends their time and what type of media they consume.
Your budget. You need to determine how much you will spend on each channel and whether you can afford to maintain a presence on multiple channels. I'm a firm believer you can do some of your best marketing with zero spend, especially with the potential of organic SEO-optimized content on your blog, but it's worth having a budget to play with.
Your overall marketing goals. Are you trying to drive brand awareness? Do you want them to take an action like downloading a lead magnet? Are you hoping to increase leads and sales?
Research your options. There are a lot of options. Discover what's out there and what could work for you.
Define your message. Have real clarity on what you are trying to communicate, and keep it consistent across all your chosen channels. Find your unique voice in your messaging and how you show up in the channels you choose to play in. Be yourself and you will resonate more deeply with potential clients.
Monitor and review results. This really is important. Your marketing communications mix should deliver you great results, but you need to review what's working. If something is returning poor results, it's time to ditch that medium or rethink how you use it. Don't be drawn into feeling like you have to be active everywhere. Find the mix that works for you and double down on it.
Develop Your Brand and the Right Marketing Message as an Entrepreneur
Above all else, as an entrepreneur, it is important to develop a powerful brand and create the right marketing message. Your brand should be unique and memorable, and your marketing message should be clear and concise.
It is also important to ensure that your branding and marketing efforts are consistently doing their job. This is where your strategy comes into play after all. A strategy would ensure you use marketing communication to its full potential.
Ready to align your marketing and create a strategy? You may find my FREE audio course, 'Epic Guide to Marketing Planning', helpful to help you better understand how to create a marketing plan for your business.
Also, my blog on 'How to communicate your message' will greatly help you discover how to get a handle on your ideal clients' words and language.
The key to remember is once this work is done, it's going to be so powerful in helping you connect with your audience and reach your business goals. Block some time out in your calendar and get creating. Then schedule time for regular integrated marketing communications strategy reviews and keep on top of your audience and current trends.