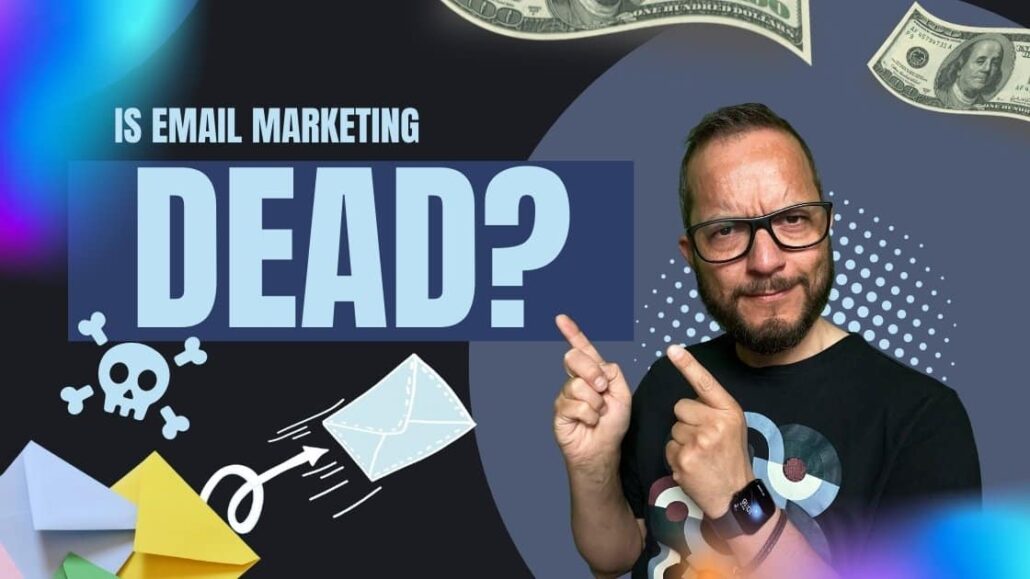 I can't tell you how many times I've been asked "is email marketing dead?". Short answer, no! Email marketing isn't dead. In fact, sending emails to an engaged list of email subscribers is still one of the most effective ways to drive sales.
Throughout this article, I intend to show you why email marketing isn't dead, why it should be one of your marketing channels, and the best practices for ensuring a great email marketing ROI (Return On Investment).
Is email marketing dead?
It's become a common misconception that email marketing is dead. Having replaced direct mail as internet users grew, email marketing was once the preferred marketing channel for many businesses. The problem is, email marketing got its reputation as SPAM.
Our inboxes began to fill daily with promotional emails with the sole purpose of selling, and often selling us things we didn't want and hadn't signed up to.
Mailing lists became gold, with lists being sold to email marketers who didn't care about the email users. They just wanted the mass numbers to sell to.
Thankfully, our email providers became better at filtering out spam, email marketing platforms started taking responsibility to ensure 'spammers' were penalized, and rules came in to protect our data online.
Although selling lists and spam emails do still exist, business professionals have realized if they focus their marketing efforts on potential customers who actually want to hear from them, they've got a much better chance of seeing a high ROI from their promotional messages. In its simplest form if you focus on sending content people actually want to consume because it's valuable to people who want to consume it. I call this the email marketing sweet spot and it is where segmentation lives.

Does email marketing still work in 2023?
Most definitely! Email marketing is not dead even in an age of social media platforms dominating our mobile devices.
In fact, in this article from Forbes, Why Email Marketing Is Still Relevant in 2022, they state "There is no better time to begin focusing your attention on the rising trend of email marketing".
In 2018 fears for email marketing rose as EU Law brought in strict regulations on email marketing. The General Data Protection Regulation (GDPR) protects data and privacy. In short, you are not allowed to hold someone's data without their permission. These types of laws on data are beginning to come in worldwide.
For email marketing, it means you must have an opt-in form that allows your subscribers to choose if they want to be on your mailing list. They must also be able to opt-out at any time. 
Although laws on data have tested email marketers, it is in fact a good thing. You want to ensure your email marketing delivers to customers and potential customers who are more likely to engage and buy from your brand because they've chosen to be there, there's that sweet spot again.
Is email marketing worth it?
Absolutely! It should be a key part of your marketing strategy. Getting your message into someone's inbox is a cost-effective way to reach people with your message and get new clients.
Email has the potential to improve customer engagement, reach more customers in one go, and a successful email marketing campaign can offer huge ROI potential.
Most email marketing software is a very affordable price, paying for the number of subscribers you have (another reason to make sure they want to be there). Your email marketing platform will allow you to contact large numbers of relevant contacts at once. It's more targeted than social media platforms and cheaper than direct mailing. My favorite platform is ConvertKit.
Digital marketers and smart business owners are making sure email strategy is part of their communication methods, and according to HubSpot 77% of marketers have seen an increase in email engagement over the last 12 months.
So is email marketing dead in 2023? 
As long as you follow good email marketing practices (we'll dive into these further down), email marketing remains one of the marketing channels for business communication.
Is social media replacing email marketing?
Absolutely not! That's not to say social media platforms don't have their place in your marketing strategy. Social media marketing campaigns can be highly effective.
The benefit of email marketing, however, is that it can be a lot more personal than social media, making the average engagement rate and conversion rate for email much higher than social media.
With the ability to segment mailing lists, and personalize subject lines and email campaigns, you can ensure your email delivers highly targeted and relevant content.
The power of combining email and social media marketing
As part of your marketing strategy, you ideally want your social media and email marketing to work in concert, using each marketing channel to its strength.
Your social media is there to build a relationship with your audience, engage with them, build trust, and keep an active presence. I call this background music. When you visit a restaurant the background music helps create the ambiance. In business, social media provides the backdrop to build trust and rapport with your ideal clients via email. They work together beautifully.
However, it can be hard to stand out on social media, and messages get lost as the user scrolls by, so use your social media to help drive subscribers to your list.
Once part of your email marketing, you'll be able to build stronger relationships and are more likely to get your message seen.
In recent years social messaging apps such as WhatsApp, Telegram, and Facebook Messenger have given brands an even more personal route to connect with customers.
Automated replies and chatbots help brands to answer common questions and connect in new ways with their followers. This combination of email marketing and social media can be really powerful for sending personalized messages to your audience. Don't think about email and social media in isolation. Instead, think symphony, think how can these work together to help grow my business.
How effective is email marketing?
Hopefully, by now you're no longer questioning is email marketing dead, but you may be wondering how effective it is.
According to the Content Marketing Institute, 60% of consumers admit to making a purchase as the result of a marketing email.
Of course, like with any form of marketing, you still need to make sure you are getting the best response from your email marketing campaigns.
HERE ARE a few quick tips on how to make your email marketing effective: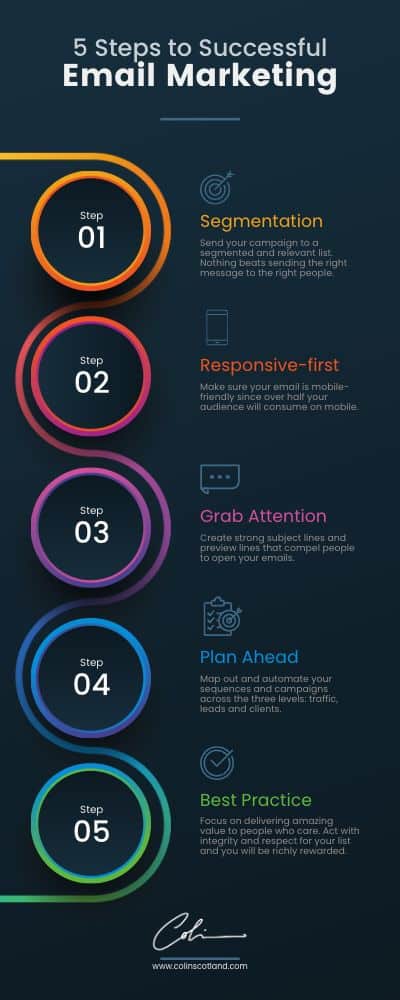 Send your marketing campaign to a segmented and relevant list

Make sure it's mobile-friendly (more than half of the people opening your emails are on their mobile)

Create strong subject lines (the subject line is what will convince them to open the email)

Create an email marketing strategy and plan

Follow good email marketing practices (more on this below)
Should I have an email marketing strategy?
You should definitely have an email marketing strategy to ensure your email marketing campaign has the best impact.
Every email marketing campaign you send should have a clear purpose. Whether this is to provide information and add value, build a connection, or sell.
The key is to balance promotional emails with value-adding content. If you're selling too much you're more likely to lose the interest of your subscribers, and they'll unsubscribe.
Your email marketing strategy should give you a clear view of all future emails so you can plan your content to be a good mix of engaging and sales messaging.
Of course, you need to make sure you don't fall into poor email marketing practices, so let's dive into how to master the best practices for your email marketing.
Email Marketing Best Practices You Need to Master
Have explicit permission
As we've already discussed, data laws have meant we can no longer add people to our mailing lists who have not given us permission to be there.
This is a good thing! If you have large numbers of subscribers who have not opted in, you risk large unsubscribe numbers and can spam complaints. This will not only get you penalized by your email service provider, but it could also get your email blacklisted.
Having permission from subscribers will ensure you have a more engaged email list, meaning you'll see a better open rate and click-through rate.
Use EYE-CATCHING subject lines
Every email campaign you send will need a subject line. This is what appears next to your name in the recipient's inbox.
Subject lines should capture their eye and encourage them to open the email. In fact, the sole purpose of subject lines is to improve your open rate.
Most email marketing platforms will allow you to run split tests, where you can test two different subject lines to see which is more effective. Once you know which style of subject line your audience responds better to, you'll see a great open rate increase on your email campaigns.
Segment your audience lists
We all have busy lives and full inboxes. If you send irrelevant emails it's as bad as using poor subject lines. Your subscribers will deem your emails pointless and quickly unsubscribe.
If you segment your audience lists, you can send much more targeted emails. For example, if you're running a campaign for a local networking event, but you have subscribers from all over the world, create a local list, so you only send details of the event to your local target audience. Create segments within your email list that make sense for you.
Make sure your emails display on mobile devices
There is nothing more frustrating than opening an email on your mobile only to find it's not mobile-friendly.
Images too large and text too small, it's a quick and easy way to get your email deleted or unsubscribed.
Most email marketing platforms will do this for you, but make sure you test emails on mobile before you send them to your audience.
Test your emails before you send
Artificial intelligence and grammar checkers will get you so far. They can help you create content, pick up errors, and resize your images. But, when it comes to email marketing you need to sanity-check everything.
Sending a test email to your own inbox is the best way to do this. It will allow you to check if it's displaying in mobile view and enable you to check everything is working as it should.
There's nothing worse than sending an email with the purpose of increasing website visitors, only to realize after it's sent that the link doesn't work!
Look at your results
As you should be doing with all your marketing, you need to look at the results from your email campaigns.
The open rate will help you monitor how effective your subject lines are, and the click-through rate will give you a clear indication of how effective a campaign was in converting subscribers into clients.
Use the results to help you plan your next email to help ensure you keep your audience engaged and emails effective.
What are the latest email marketing statistics?
This report from HubSpot should help finally put to bed the question is email marketing dead. Here are just a few key takeaways from these email marketing statistics:
There are 4 billion daily email users

37% of brands are increasing their email budget

Subscriber segmentation is the most effective email marketing campaign strategy

Smartphone users prefer to receive brand communications via email

Testing your emails leads to higher ROI
It also helps to greatly improve your email marketing results by learning the best time and day to send your emails.
Once your audience list is established, many email marketing platforms use machine learning to be able to suggest an optimum time to send your email based on the list behavior.
What is the best time of day to send marketing emails?
The best way to establish this for your specific list is to trial and test sending campaigns at different times to see what the best results are.
Generally speaking, 10 am proves a popular time for emails to be opened, followed closely by 2 pm. If your list spans multiple time zones the best thing to do is test, measure, and test some more until you have enough data to let the numbers decide.
What is the best day to send marketing emails?
As with finding the right time, it's best to test your specific list. However, most stats suggest Tuesday is by far the best day to send your emails, followed closely by Wednesday and Thursday.
What's the difference between an email nurture sequence and a campaign?
Email Campaign
A campaign is a regular email you send out to your subscribed list. These can be planned out in your strategy or as a reaction to something relevant and useful to your audience.
They should provide valuable content, updates, information, and offers. Balancing the sales-to-value ratio and sending on the best day and time for your audience.
Email Nurture Sequence
The email nurture sequence is a series of emails that follow an action, such as signing up for your mailing list or downloading your lead magnet.
These emails will be automated and will start in sequence based on the time of subscription. They are designed to add value and nurture new relationships.
They will often be built with actions dictating where the subscriber's journey takes them, to make it as relevant as possible for the user. For example, if they've accepted the offer to book a call, they can stop receiving further emails encouraging them to do so.
How many emails are in a nurture sequence?
Usually, the sequence following a lead magnet download will be 3-4 emails long. Offering extra value and introducing them to your brand. Followed lastly by an upsell or call to action email.
Following this, it's common for subscribers to join a welcome series of emails. These can be anywhere from 7-10 emails long and focus on nurturing the new relationship.
The welcome email series can last a couple of months, with increasing gaps between each email. They are adding value and building relationships rather than constant selling.
What's a lead magnet and should I have one?
A lead magnet is something you exchange in return for someone's email address. It could be a free download or webinar.
The key is, it has to be free, and it has to be of value to them. Think about what information you possess which would be valuable to your audience.
Create a PDF or video and set up an email nurture sequence to follow the download.
Recommended email marketing tools
There are lots of email marketing platforms out there with tools to help you create, manage and send successful email marketing campaigns.
The specific tools to look out for when choosing your platform are:
Segmentation – make sure you have the ability to segment your audience so you can send targeted campaigns.

Autoresponders and workflows – these help you create pre-built email nurture sequences, essential for lead magnets and lead generation campaigns.

Scheduling – this enables you to get ahead so you can create your emails to send at a specific date and time.

Reports – make sure you can see the results of your emails so you can plan how to make them even more effective.
Which platform best suits you depends a little on function and personal taste. I personally recommend ConvertKit. If you are building lead generation and nurture sequences I've found this the most effective all-around platform for coaches and course creators.
Mailchimp is a popular choice as it's got a very user-friendly email builder, which makes more heavily designed emails easier to build for beginners. Although it has changed a lot it still relies heavily on lists instead of tags, which I'm not a fan of as it makes it harder to segment your audience. Still, some email marketing is better than none, so go with what works for you.
I've also had great results for my clients with Ontraport, Infusionsoft, and ActiveCampaign. The choice really boils down to matching your specific requirements with the software on offer and the cost. If in doubt, go with ConvertKit.
So, is email marketing dead?
Hopefully, by this point, I've shown you how email marketing is very much alive and one of the most powerful and cost-effective marketing tools we have.
If you're not already using email in your marketing you need to start. Building a strong email list of engaged subscribers is going to give you a fantastic ROI.
Getting started with email marketing
If email marketing is something you've not tried, or you don't utilize enough, now is the time to get started.
Don't let the idea that email is outdated or that you're spamming people put you off. Email is about providing knowledge and value to your audience, and building relationships to make the sale when the audience is ready.
Someone may be on your audience list for years without taking action, then one day when the time is right your email will hit their inbox as they are ready to buy (this happens to me all the time).
My advice is just to get started. Find an email platform that best suits you, create some lead magnets, and start encouraging subscribers to sign up. Remember, they need to opt-in, don't just add people without express permission.
Don't be discouraged if not every email produces results; play the long game. The important thing is to be consistent and keep showing up in their inbox. Results will come.
If you're creating lead magnets and nurture sequences, feel free to grab my Email Nurture Sequence Template to help you get started and check out the other email marketing-related articles here on my blog.
Happy emailing!