There are many ways to start and build a successful online coaching business. You can begin by teaching what you already know or specialize in a specific area of expertise. The most important thing is to have a passion for helping others, the desire to learn and grow yourself, and the drive to succeed.
Aside from a laptop and internet connection, you'll need to create a website and learn how to market your services to get started. Coaching is a fun way to earn your living; running a business is another kettle of fish altogether. In practice, you need to become good at both to succeed, so don't underestimate the power of solid planning.
Starting an online business as a coach can be a great way to use your knowledge and skills to impact the lives of others. With the proper marketing and unwavering dedication, you can build a successful coaching practice that helps people achieve their goals while giving you time and financial freedom.
What is online coaching?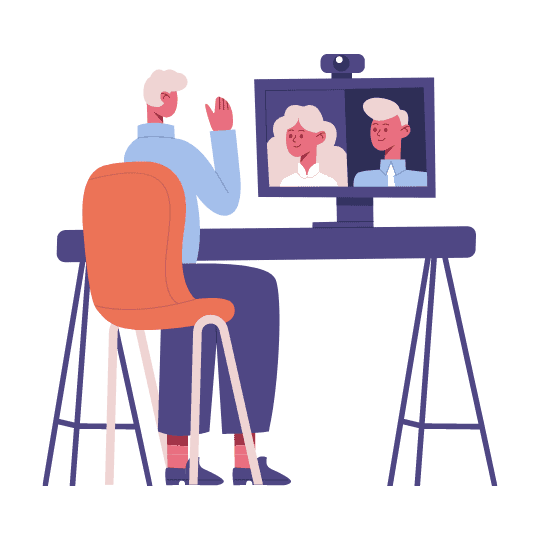 Online coaching is a process whereby someone works with a coach to achieve specific personal or professional goals. The coach and client meet online, typically via video conferencing, and work together to identify areas of improvement and set goals. The coach then provides guidance and support to help clients reach their goals.
The world of online offers so many opportunities to connect your area of expertise with people from all walks of life who would benefit from and pay for your experience. The endless possibilities for you make going online as a coach a no-brainer.
What are the benefits of coaching online?
There are many benefits to coaching online, including the ability to connect with clients from anywhere in the world, the flexibility to work around your schedule, and the cost-effectiveness of not having to travel to meet with clients.
Additionally, online coaching can help you build a more diverse clientele and reach people who may not be able to attend your in-person sessions. A coaching session conducted online is not only a more efficient use of everyone's time than in-person coaching, but you will also often see better results when energy is more focused in this way.
Isn't the market too saturated to start a coaching business?
The market is definitely saturated. Every man and his dog is a life coach or business coach these days. However, that doesn't mean there isn't room for new coaches. It just means that coaches need to be clear about their niche and what they offer that is unique.
It would help if you also had a solid marketing plan to stand out from the crowd. Focusing on your uniqueness becomes critical for you to succeed and grow your business. This is why many gurus talk about the importance of finding your niche. When you have clear goals and a solid plan, the world of online coaching offers a myriad of opportunities to build your online empire and help others along the way.
Finding the right coaching niche is critical
Because the market is saturated, niche becomes more important than anything. However, don't let this deter you; far from it. I know from experience that embracing the thing that makes you unique is the key to unlocking massive success for you as you build your coaching program and take your business online. I created a free mini course to help you Find Your Niche. Check it out here.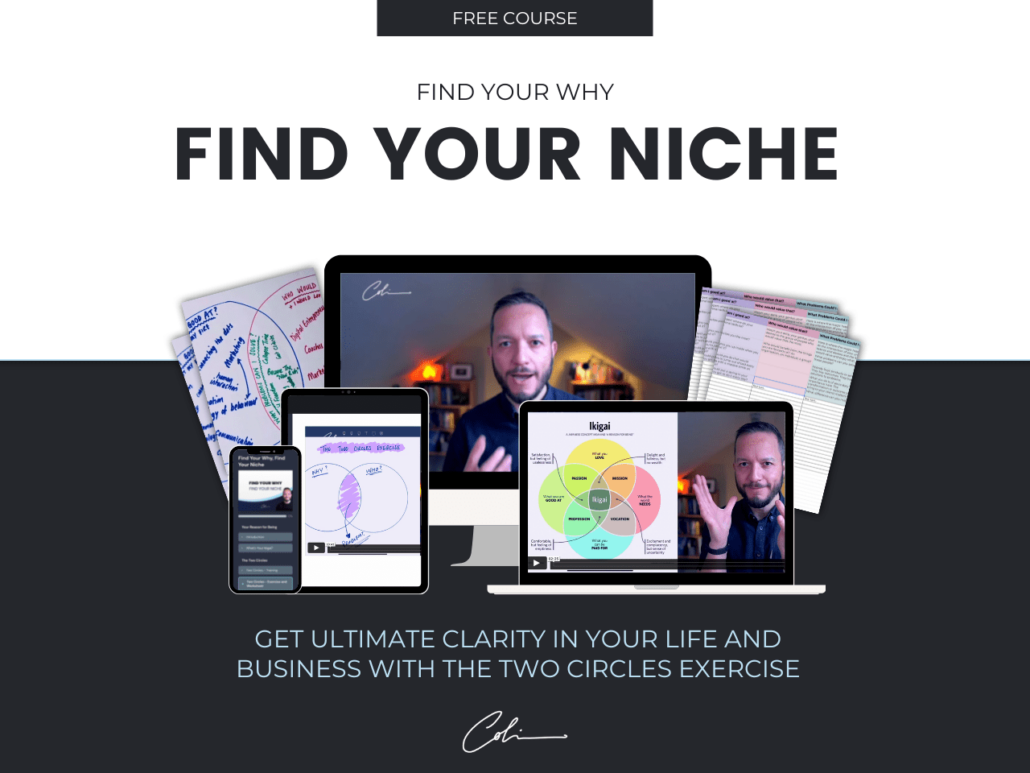 What do you need to start an online coaching business?
To start a coaching business, you need to get clear on a few key things:
A niche or focus for your coaching business. What area do you want to coach people in? What are your life and business goals?
A target market or ideal clientele. Who do you want to work with?
A unique selling proposition or what makes your coaching business different from others.
A well-defined coaching process. How will you help your clients achieve their goals?
The right tools and resources. What do you need to deliver your coaching services?
From a practical technology perspective, you need nothing more than a laptop and an internet connection to start your business. While it may be easy to start, you will use much more than this to deliver exceptional experiences to your clients.
How to Get Started With Your Coaching Business Today: 5-Step Guide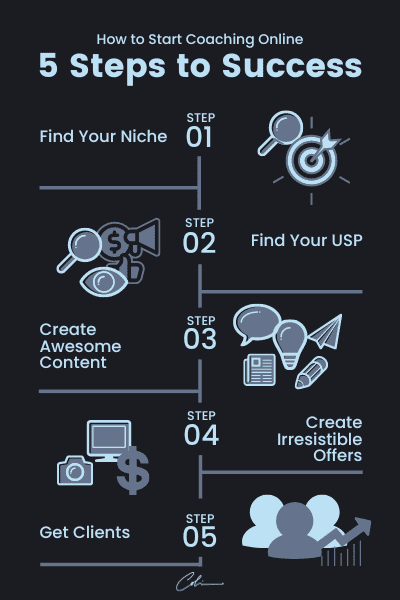 If you have a passion for helping others and are ready to get started, there are a few things you need to do in order to be successful, follow this ultimate guide to start. First, you need to identify your niche and build your brand around it. This means creating a website, blog, and social media profiles that showcase your coaching services and attract your ideal clients. Next, you need to create valuable content that will help your clients achieve their goals. This could include blog posts, video tutorials, a podcast, or e-books, the list is endless.
Finally, you need to market your services, reach out to potential clients through online channels such as social media or online directories, and use email and marketing automation to make the whole process run without you. You don't want to be stuck in marketing mode; after all, you want to spend your time delivering your coaching programs and working in your zone of genius as you build your online coaching business.
Step 1 - Identify Your Niche and Your Ideal Client
The first step in starting a successful online business is to identify your niche and define your ideal client. This can be something you are passionate about or have extensive knowledge of. Once you know what you want to sell or promote, you can start building a website and creating content around your chosen topic. If you choose a niche that is popular and in demand, you will have a better chance of success. However, it is important to make sure you can stand out from the competition. If you can offer something unique or provide value to your target audience, you will be more likely to succeed. Do some research and brainstorming to come up with a niche that is right for you so you can build your business plan around it.
Step 2 - Build Your Personal Brand - Your USP
Now that you have clarified your goals, it's time to start building your personal brand. This involves creating a solid online presence and developing relationships with key influencers in your field.
Creating a solid online presence begins with having a professional website and active social media accounts. Your website should reflect your brand, so ensure it is well-designed and up-to-date. Your social media accounts should also be consistent with your brand image. Make sure to post regularly and engage with other users to build up your following.
Developing relationships with key influencers can help you get your name out there and expand your reach. Attend industry events, connect with thought leaders on social media, and collaborate with other professionals in your field. These relationships will help you promote your brand and provide valuable networking opportunities.
Step 3 - Define Your Coaching Process and Create Valuable Content Around it
Your coaching process is what I describe as prison to paradise. It is the journey of transformation you will take your clients on in your coaching program. First, define the transformation, the start and end points, then map out your process to deliver those results, this becomes your unique coaching process and part of the unique coaching experience you will deliver. Don't copy others here, be the coach who specializes in helping with something specific. The source of that something specific could simply be your unique experience.
For example, I was a marketing lecturer, I built an online business to multiple seven figures, and I built a thriving online coaching business from scratch to multiple six figures, this is what gives me my specificity when it comes to helping experts get started running an online business. My skills and experience both in marketing and in the online world matched with people who want to know what I know in order to spend less time figuring out how to get there. This is the match, the niche, and the synergy between the two. What is that synergy for you?
In order to create valuable content around your unique process, you need to first understand what your audience wants and needs. Once you know this, you can create content that is not only valuable to them but also engaging and interesting. Start by creating content that answers the questions your ideal target clients are asking. This will help you build a loyal following of readers who will keep coming back for more.
Be the coach who helps rather than the coach who sells.
Step 4 - Create Irresistible Offers
The more irresistible your offer, the more people will be willing to take you up on it. There are a few key ways to make your offer more attractive:
Make it exclusive: people always want what they can't have. If you make your offer exclusive, it will be more enticing.
Make it time-sensitive: if people feel like they have to act fast, they're more likely to take you up on your offer.
Make it valuable: the more value your offer has, the more people will want it.
Your offers should vary in price and value. Think in three ranges low-ticket, mid-ticket, and high-ticket.
Here are some ideas as food for thought for your value ladder of offers as you create your online coaching program. Free content could be blogs, videos, lead magnets, resources, and training. The low ticket could be an online course, workshop, or book. Mid-ticket could be community-based coaching and programs, group coaching, etc. The high ticket is private, one-on-one coaching sessions with you.
Step 5 - Get Your First Coaching Clients Online
Once you have everything ready, it's time to start looking for clients to get your new coaching business off the ground. This can be a daunting task, but there are a few things you can do to increase your chances of success that don't include spending a fortune on online ads.
First, make sure you are marketing yourself in the right places. Look for online communities and forums where your target market hangs out, start to create connections, and make sure you have a presence there. You can also attend events and conferences related to your niche.
Second, reach out to people you know who might be interested in coaching. This could be friends, family, or even colleagues. Start with your existing network and branch out from there. Let them know what you do and how you could help them and the people they are connected to and offer a free consultation to get them started.
Finally, don't be afraid to cold-call or email potential clients. While this may not be the most fun task, it can be effective if done correctly. Ensure you have a strong elevator pitch and are clear about what you can offer potential clients. With a little effort, you should be able to find and convert your first new client.
The bottom line, the best way to attract the right people into your world and get the business up and running is to start coaching, even if you need to do it for free to demonstrate your worth as a coach and create your first success stories which will lead to more clients. Start creating valuable content, and build a community around what you do best.
The Online Coaching Opportunity: Final thoughts
I've been coaching people online for a while now, and it's a great way to share what you're good at with the world and serve others as you help them to achieve their goals. It can be an excellent option for those who choose to work remotely, those who want more flexible hours, or those like me who prefer the simplicity and efficiency of not meeting face-to-face.
If you're considering becoming an online coach, there are a few practical things to keep in mind. First, you have to get comfortable using technology and have a good internet connection. Second, you need to be able to build rapport and trust with your clients without meeting them in person, developing your skills on camera takes practice and skills development. Finally, you'll need to be organized and self-motivated, as you'll be responsible for managing your own time and schedule.
Most important of all is your heart
You probably found your way to this article because you have a feeling inside that is calling you toward helping others and giving back, whilst also securing your own finances in the process. Changing lives through coaching is both an honor and a privilege. Sure, like anything worthwhile it takes dedication and commitment, but boy is it worth it when you witness the transformation in the lives of those you serve.

Whatever is driving you to become a coach, if you think online coaching could be a good fit for you, I encourage you to lean into it, explore the possibilities, and give it a try!