What is a Mastermind Group?
A mastermind group is a small group of like-minded individuals who meet regularly to discuss business goals, ideas, and challenges.
As well as group coaching, mastermind groups offer like-minded professionals the opportunity to brainstorm ideas and get an outside perspective on their business.
The best mastermind groups allow each member to share and receive advice and offer the opportunity for problem-solving and personal development. Many successful people will credit the hive mind they've accessed through mastermind groups.
What are the main benefits of mastermind groups?
The primary thought process behind mastermind groups is that the collective wisdom of the group can help each member achieve more success than they could on their own.
Napoleon Hill, the author of 'Think and Grow Rich', described a mastermind group definition as:
"The coordination of knowledge and effort between two or more people who work towards a definite purpose in a spirit of harmony…

No two minds ever come together without creating a third, invisible, intangible force, which may be likened to a third mind (the master mind)."

Napoleon Hill, Think and Grow Rich
We can learn so much when we learn from our peers and those who face similar challenges and issues as we do while running a business.
Mastermind group members get professional and meaningful support from others that help them achieve their goals. It also provides a framework to measure progress and identify areas where the business can improve.
Your fellow group members can share their own experiences to provide you with peer support and vice versa. You'll gain much more from working with others than alone.
What do you do in a mastermind group?
Your mastermind group will be a virtual group meeting regularly online via a video conference tool such as Zoom or Google hangouts, or it'll be an in-person local group.
The group host will coordinate the meeting to help it run smoothly. Often the meetings will start with the mastermind members doing an individual check-in, sharing their wins, progress, and challenges with the other group members.
Once everyone has checked in, you may do hot seats. This is where one group member takes their turn to share a problem or challenge in their business, and the other members help them by giving feedback and advice.
Here's when the hive mind of a mastermind group really comes into its own, with peers and like-minded people working collectively to help and support other business owners on the road to success.
There will also be group coaching and occasionally guest speakers to allow you to learn from experts in the subject or the same industry.
One of the most significant benefits of mastermind groups is accountability. At the end of the meeting, you'll share your key takeaways and set goals to achieve before the next mastermind.
The inner circle you've created within your mastermind group will be able to hold your feet over the coals, keeping you accountable and achieving your goals.
How do I find a Mastermind group?
There are different types of mastermind groups, so if you want to join a mastermind group, look for one that will best serve you.
My own mastermind group focuses on marketing and business support, whereas others may be specific to different industries.
Mastermind groups tend to be small and intimate, allowing each member the time and space to share their challenges, progress, and achievements.
Depending on the group set-up, you'll likely meet once or twice a month and usually meet online unless you join a local network where you may meet in person.
You may have to go through an application process when you've found a group. This process is to check the mastermind group and its community are right for you and vice versa.
Before joining a mastermind group, you'll probably be invited to trial a session for free to see if it's a good fit and, if so, can sign up ready for the next meeting.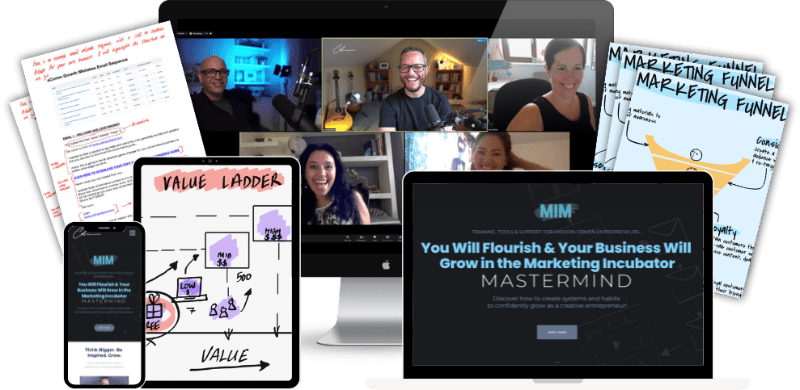 How do I get the best out of my mastermind group?
To ensure you get the best from joining a mastermind group, approach each meeting with total honesty. Mastermind groups are a safe space to be transparent about the struggles and challenges you may be facing.
They are an opportunity to share fears, failures, successes, and triumphs with amazing people who understand what you're going through.
Family members are there for us in our personal life, but when it comes to our business, with the best will in the world, they may not understand what we're going through.
Your mastermind group is the opportunity for you to spend time with a community that understands what it means to run a business.
One person may not have all the answers, but if you're open and honest with other members, you'll receive advice from your peers, which will be instrumental to your success.
They will hold you accountable
As a mastermind member, you'll be openly setting goals and targets, and your mastermind group will hold you accountable, helping you stick with plans and achieve your goals.
You don't have to struggle alone
It can feel very lonely running a business on your own. Mastermind groups offer the support and advice to help guide you on your journey.
Connect with like-minded individuals
When you find a mastermind group that's the right fit, you'll meet members who will share common ground and have been on similar paths. The beauty of joining a mastermind group is the connections you'll make, with members often becoming friends.
It will help you leave your comfort zone
Often in business, we need to leave our comfort zone to get to the next level. Unfortunately, success doesn't come easily, and you may need to push yourself to achieve your goals. Your mastermind group members will help give you the confidence to go for success.
You'll think bigger
The network you'll join within your mastermind group will open up new possibilities. In addition, you'll be inspired to think bigger due to the advice and success of your peers.
Should I pay to be in a mastermind group?
Mastermind groups usually charge a fee to be part of them, but once you find a mastermind group that's right for you, you'll get so much out of it that it'll be a worthy investment.
There are vast benefits of mastermind groups, and joining one could be the key to your success. Your mastermind network will become friends, and you'll feel hugely supported on your journey.
There are other groups you can join that are free, a private Facebook group, for example, but you won't get the same benefits of meeting the same group of like-minded people regularly.
Mastermind groups also give you access to expert coaching at a more affordable price.
How to join a mastermind group
As I mentioned, most mastermind groups will offer you a free taster session to see if you're a good fit for the group and if the group is a good fit for you.
If you're looking for support with your marketing and growing your business, I invite you to take a look at my own Marketing Incubator Mastermind group.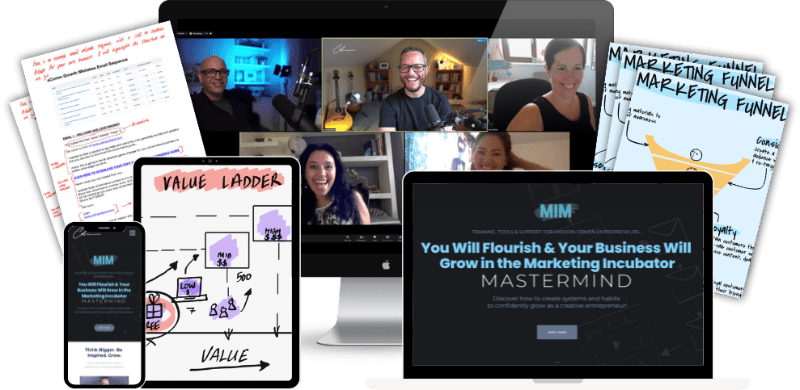 I run my mastermind groups bi-weekly on Zoom, so you have time to reflect and take action between sessions.
My groups are filled with wonderful entrepreneurs, business owners, and creative minds who will be pleased to welcome you and support you on your journey.