What is ThriveCart Used For and How Could it Help You Grow Your Business?
ThriveCart is used for taking online payments easily. It's a really powerful shopping cart provider and checkout platform that enables you to sell both digital and physical products, courses, coaching, and services online. The bottom line, online entrepreneurs who want more sales need ThriveCart.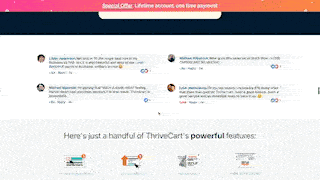 It not only makes taking online payments easy with dedicated checkout pages and checkout links, its popup, and embeddable checkout option means the cart can be added directly to your website or linked to from your sales pages or landing page, providing a simple and secure eCommerce solution.
Within ThriveCart you can build bespoke checkout pages (or use the widely available checkout templates) for all your products, allowing you to automate sales funnels and sell in your sleep. Here is an example of a ThriveCart checkout page for an online course.
Here's a video I made sharing the benefits of using shopping cart software such as ThriveCart 👇
What can ThriveCart do for my business?
Whether you're selling a project-based service for coaching, programs, or consulting, or you're looking to build a subscription service, ThriveCart has the tools and templates to help you design and create slick, professional and high-converting checkout pages. 
With ThriveCart you'll be able to offer your customers a variety of pricing options at the checkout page:
Sell digital products with one-time purchases for your workshops, ebooks, coaching, and courses
Subscriptions and monthly retainer fees
Split pay options
Free trial periods
and so much more…
It allows you to create coupon codes so you can offer discounts and run special offers, and probably ThriveCarts most powerful feature is its bump offers and one-click upsells capabilities. You can easily create beautiful checkout funnels for your offers.

You'll have the ability to increase your Average Order Value (AOV) by adding more options to your sales funnel during the checkout process.
Bump offers
Custom Upsells
Downsells
And more…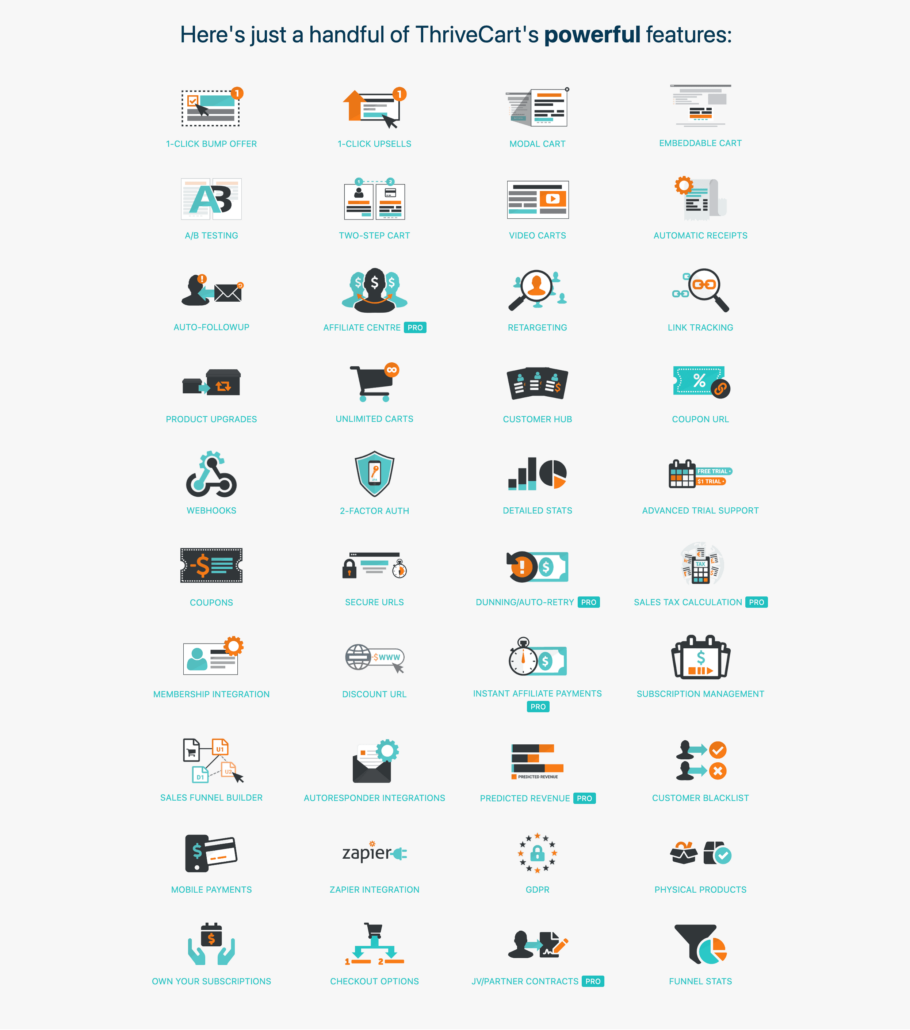 All these features are designed to increase sales. Your customer has already decided to buy from you by adding a bump offer during the checkout process that adds value to their order with one simple click and increases the chances of them doing so.
Make your sales process slick, simple, and trackable
Another benefit to ThriveCart is its integration options and tracking features. When you're running a business you want systems in place that make your life easier. You also want to know what's working, what's making you money, and what's not.
ThriveCart Integrates with just about everything…
ThriveCart offers several integration options so you can integrate existing systems such as email marketing providers like ConvertKit, allowing you to build subscribers to your email list as they go through your checkout process.
ThriveCart has its own tracking and analytics, and it also integrates with other systems including Google and Facebook, so you can track the entire journey of your customer and strengthen your sales process.
Why is ThriveCart Such a Powerful Tool?
The beauty of ThriveCart is its simplicity. Making your sales process easy for your customer is going to increase the likelihood of them buying.
Selling online and digital products is a great way to scale your business and add a passive income stream. ThriveCart allows you to create a checkout page, integrate with the most popular payment gateways (such as your Stripe and Paypal account), and automate systems so you can make money with zero hassle.
The ThriveCart platform allows you to design and create a product checkout for your online business, so you can create an effective checkout page in just a few clicks. 
Follow up on lost sales with Cart Abandonment
Another strong feature of ThriveCart is its Cart Abandonment automation. If someone leaves your checkout process before making a payment you can send them an email reminder, inviting them to come back and complete the purchase.
This feature alone could make a significant difference to your sales. You could even send them an offer giving them an extra incentive to return and complete the order.
Who is ThriveCart For?
One of the reasons I love ThriveCart is that it's so simple to use. You don't need to have technical knowledge, the software is easy to navigate with tutorials and support available to help if you get stuck.
Anyone looking for a simple-to-use checkout platform should consider ThriveCart. I personally feel it's a wonderful tool for coaches, entrepreneurs, and creators who are looking to scale their businesses with courses while making the whole process a breeze for clients.
Do I really need an online checkout platform?
The secret to growing your business online is to never make your customers have to think too hard. Make it as easy as possible for them to give you money. Don't put barriers in the way.
It doesn't matter whether you're selling your services as a coach or consultant or digital products and courses, the process has to be slick.
Having Paypal or Stripe isn't enough, you need a hassle-free way of collecting payments. Shopping cart platforms like ThriveCart and SamCart should be an essential part of your marketing technology stack.
You'll greatly increase the number of sales you make, sell things multiple times without the additional paperwork, and upsell products easily helping you to scale your business.
How does a shopping cart solution like ThriveCart work?
You still need Stripe and or PayPal, these are called Payment Processors. These essentially take care of the transaction part of the process, taking the money from the client and putting it into your account, minus their processing fee.
What we are talking about here is referred to as a Checkout or Shopping Cart Platform. These sit in between your website and Stripe or Paypal.
The best Cart Platforms don't charge any fees for processing but they do carry a cost to use. The best options for coaches, thought leaders, and online course creators right now are SamCart and ThriveCart.
SamCart is wonderful software that will cost you around $99 per month to do everything I described above.
ThriveCart is very similar to SamCart and it is currently available on a lifetime deal for only $495, meaning you pay once for it with no monthly fee. You can check out and purchase ThriveCart with my affiliate link.
Final Thoughts on Why ThriveCart is my Personal Favourite
I love the simplicity of ThriveCart, from both a user perspective and the customer's point of view. It's clean and professional while being simple to use. It is quite simply one of the best shopping cart solutions available.
It also has a built-in affiliate management feature, so if you're looking to sell through partners, you can easily set up an affiliate program.
ThriveCart is also my personal favorite because you also get access to the ThriveCart Learn Platform.
This is what is called a Learning Management System (LMS for short) and is used for selling digital products, online courses, coaching programs, memberships, etc. There are many LMS options out there, Teachable, Kajabi, and Thinkific being the main ones, but again, with ThriveCart Learn you get the same features without the burden of monthly recurring fees.
Once you've signed up to ThriveCart you get Learn included at no extra cost. If you choose ThriveCarts one-time payment for lifetime access, imagine how much you'll save monthly when you're not paying extra for an additional LMS.
All of this is on top of the checkout functionality – Win, win, win!
If you're looking to make money online, with its plethora of features and one time fee, ThriveCart is my recommended shopping cart platform of choice.