For a few years now, marketers have been raving about landing page and funnel-building software, the likes of ClickFunnels and Leadpages. They offer fast and efficient ways to create lead generation and sales funnels so you can sell more of your services.
Landing pages form the backbone of a funnel. The funnel is merely a journey your prospects take from being cold and utterly unaware of who you are and what you do, to flaming hot fans who buy and talk about your product or service.
Managing the 'journey,' your ideal clients take, and being intentional in your marketing – trying to move them along the path is the key to using marketing to win more business.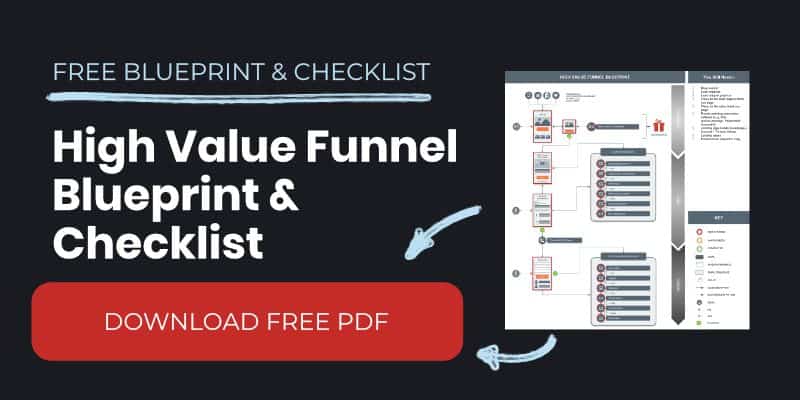 Maybe they consume a blog post, then click a link to download a related PDF guide, for example. The landing page would be where the opt-in form would sit. Traffic is directed to the opt-in page and people sign up to download the guide.
They exchange their email address for the guide. So it is essential that the perceived value of what you are offering makes it a no-brainer decision for your audience.
Can you see how the process of creating a structured 'funnel' that maps out the critical actions of potential clients is vital?
This is important because people smell inauthenticity a mile away. This is why it is vital that you come from a place of integrity and a genuine desire to help your clients. You must be seeking to make a meaningful change in their lives as a result of your interaction. This is about so much more than money.
If you are seeking a quick buck and all you see are pound signs, you're reading the wrong article, none of this will work for you.
Opt-in landing pages are pages just like any other page on your website but with one BIG difference.
Unlike regular pages on your website, landing pages are created with a single action in mind. They have a singular focus. To increase the likelihood of that action being taken.
There is an important concept here, the idea of conversion. Conversion is the change of state, from one thing to another.
In the buyer's journey, everything hinges on this conversion. From cold visitor to prospect. From prospect to client, from client to ambassador.
By giving you their email address on the opt-in page, visitors have raised their hands and shown interest.
This conversion (the number of opt-ins divided by the number of visitors expressed as a percentage) is an essential metric for measuring how well your lead magnets (free stuff at the top of your funnel) are performing.
As a simple example, if we had a conversion rate of 40%, we would know that if we send 100 visitors to a page, 40 of them will take the desired action. We can use this to measure the success (or failure) of our marketing efforts.
If we have three lead magnets, we can know instantly which one is performing the best by measuring the percentage of people that successfully sign up. The higher the number, the better.
The focus on conversion is the reason landing pages have all other possible actions stripped away and a single call to action. The navigation menu that links to other pages on your website, especially, is removed. This distraction-free environment is the key is getting and keeping visitors focused on your pre-determined action, or conversion.
In the case of giving something for free, we are seeking to get their permission to talk some more via email. This is our conversion goal. This is our Call to Action.
You may have heard the term CTA, meaning Call To Action. A CTA merely is marketing jargon for the action, the thing we want the visitor to do as a result of consuming our content or viewing our landing page.
CTA is the 'so what?' Or 'so what next?' Question. We want to signpost that action very precisely to ensure we make the client journey as smooth as possible and get better conversions.
Look at any traditional website, and you will be able to count multiple possible actions. Menus, phone numbers, email addresses, footers, headers, buttons, etc.
When it comes to funnels and focusing people on a particular course of action, this is a big problem. People are easily distracted, so it is crucial that we make the process as distraction-free as possible for them.
Can you see the necessity for this distraction-free and focused approach so we can get the best possible conversions?
Back to Leadpages and ClickFunnels, both offer pre-designed templates that you can use to build conversion-focused landing pages. ClickFunnels even has entire funnels (series of landing pages that link together) pre-built. So if time is of the essence, they offer a great way to get into the funnel creation game very quickly.
Want to offer a free training video that links to a sales page for your course? Easy. They have templates ready-made that you can use. Replace the text, images, and colors, publish, and away you go. Your funnel in this instance might look something like this:
Just to keep things simple, these would be the pages you create to build this funnel: An opt-in page, a training video page, and a sales page. We would also write an email follow-up sequence and integrate some form of payment/order processing to take the money, but let's not get too complicated too quickly here.
We are focusing on the principles of the sales funnel, and how WordPress could be your secret weapon.
The landing page software providers all host the pages on their own servers and have their own page-building software.
Typically, these are drag-and-drop page builders that you access in a web browser such as Chrome. The page builder allows you to add blocks to a page and move them around to create nice-looking layouts with no coding knowledge required.
Think about playing with Lego blocks as a kid. I used to play for hours making all kinds of things, a wide one here, then a four, then a window. Building with the page-building software is much like playing with Lego. We assemble blocks, maybe a video block, a headline block, or a text block.
Now the thing is, a few years ago, landing page software like Leadpages or ClickFunnels was innovative, cutting-edge stuff, but things have changed. In the WordPress ecosystem, there are page-building plugins that wipe the floor with what the old guard has to offer. The landscape is changing fast, but at the time of writing, Elementor is leading the pack when it comes to WordPress page builders.
WordPress page builders have grown up from a drive to make the website-building process more accessible. Building entire websites in WordPress is now a breeze thanks to this new technology.
Even the guys behind WordPress itself have introduced their own page builder, called Gutenberg. Simplicity is the order of the day as the Lego block approach to building things on the web takes hold.
Squarespace and others in the website building arena once offered something unique, making it easy for non-coders to create nice-looking websites, without the hassle of looking after WordPress plugins and updates.
The uniqueness Squarespace brought to the table, its innovative approach, beautiful templates, and slick page-building experience have been eclipsed by Elementor and the new breed of page-building software in the WordPress eco-system.
Although the likes of Elementor have been built primarily with website page-building in mind, they are ideally suited to the task of creating landing pages and funnels. So much so that they are in fact, leaving the old guard landing page software companies in their wake.
Sure the landing page companies still have traction, they are big players in the space after all. These old landing page software companies are still an excellent choice, for some.
Isn't it crazy that a company only a handful of years old can now be deemed old? These companies, once at the forefront of innovation, have quickly become the lumbering dinosaurs in the web design space as they have grown very quickly.
It's not their fault, they are composed mostly of teams, and teams, by their very nature cannot innovate in the same way. Innovation takes a special kind of person. A Steve Jobs or Richard Branson. A pioneer, a leader, a visionary.
Larger businesses simply can't exist without systems and processes without things falling apart. But it is these very same systems and methods that stop them from doing anything special. They are designed to systemize and scale, and in that, they succeed.
In school, we teach our children to conform, to do as they are told. When they veer from the rules, we punish them. Lines, detention, sanctions. Business teams are no different, neither is society.
Great things are achieved by the naughty schoolboys. By people who question and challenge the status quo in new and exciting ways. That was one of Steve Jobs' watchwords at Apple, challenging the status quo. He baked that into what the Apple brand stands for.
Teams settle into routines, and a culture of this is how we do things around here. Habits and routines lead to staleness. Innovation asks why we do it this way. What if we tried this way instead? Changemakers and innovators seek first to solve problems, solutions to problems are at the core of great marketing.
But the problem with WordPress is maintenance, stability and security isn't it?
People buy peace of mind with Squarespace, Wix, et al. for their websites, and the same with ClickFunnels and Leadpages for their funnels and landing pages. The perception is that life will be better. The learning curve will not be as steep. Life will be better as a result.
This perception is wrong.
I've changed my thinking not because I saw a flashy ad on Facebook or watched a glossy presentation video by a self-styled marketing guru, but through trial and error over the years, mostly error…
I moved away from cheap as chips shared hosting recently and finally into decent, rock-solid hosting explicitly designed for WordPress. The difference is night and day.
Without changing anything, my Google PageSpeed test results went through the roof, up to 100% from the very low 60s. The only change was the hosting.
What does this mean?
Well, for starters, pages load blisteringly fast. This means visitors aren't twiddling their thumbs in the all-important first few seconds they land on a page waiting for it to load. The effect of this on conversion rates is enormous.
After experiencing the difference proper hosting makes l don't think I could ever, in all good conscience recommend shared hosting again. It's just not worth it.
The headaches I experienced with WordPress were mostly caused by cheap shared hosting.
Stable, secure hosting for your website and funnels is as fundamental as the air we breathe.
This is another factor in the decision to use Leadpages or ClickFunnels or similar. Straight off the bat, they are housed on faster servers than most people on shared hosting have for their websites. Squarespace is the same.
Although, in reality, you are paying the same or more than you would for decent managed hosting anyway, but without the benefits of the vast WordPress eco-system of templates, plugins, and the epic page builders that exist now.
With managed WordPress hosting, essentially the headache of using WordPress is no longer there. Superb hosts such as Flywheel take all of that away. It leaves you with a rock-solid canvas on which you can build almost anything. The sky is now the limit for your business. That is an exciting prospect!
And it was not expensive. I think the word free is engrained in the mentality of all of us who use WordPress. There are negative connotations attached to that word.
We can achieve impressive things for free, or cheap, but I for one overlooked the fundamental foundation required to take advantage of all the free stuff that the WordPress eco-system offers for far too long.
That foundation, the hosting, is not free. Not only is it not free but you are honestly kidding yourself if you scrimp, or as my American friends say 'nickel and dime'.
With shared hosting, you think you are getting the same thing only cheaper. You are not. Quality hosting makes all the difference here. Your SEO (organic traffic) will improve, and your visitors won't drift away as they wait for your page to load. And you won't spend countless hours tearing your hair out as you try to fix bugs and plugin conflicts and other time-sucking stuff like that because the server isn't configured correctly.
Not to mention malware and hacking vulnerabilities. When your website has been hacked, it can be a devastating experience. Instead of worrying about security vulnerabilities, with managed hosting, you get to focus your time and energy on growing your business.
I don't know about you, but I don't get excited by admin. I am an entrepreneur because I want to spend my days doing the things I love to do. I want to create!
This solid foundation was the advantage Squarespace had for website building and Leadpages/ClickFunnels had for funnel building. Take that away, and they aren't as appealing anymore. Not when you consider a robust WordPress website and funnel gives you more tools to grow your business, better user experience, and infinitely more options, and is cheaper overall. It becomes a simple decision to make.
Having experienced life from both sides, and built dozens of websites and funnels on all the major platforms for myself and professionally for my clients, I'd say choosing a reliable hosting foundation for your website should be a priority.
With good hosting, you can build anything you need funnel-wise with minimal additional cost on top of that same foundation. You need not pay extra to have ClickFunnels or Leadpages. In fact, you could end up better off and have better results, for less.
WordPress really could be your not-so-secret weapon here. More control, make anything, get higher conversions, save money, and faster load speeds.
If forking out for good hosting still sticks in your craw, then you should keep paying for one of the contained solutions such as Squarespace for your website and build out your funnels in one of the old-guard funnel software.
But do so knowing that you are restricting your ability to create anything you can conceive. You no longer have a blank canvas, and the complete creative freedom WordPress offers. And that may be fine for some. It was for me for a while, but not anymore.
Try, fail, learn is the order of the day to find what works for you. You need not know everything to be successful, but by making a commitment to learning, you increase your understanding. Learn from those around you.
As Francis Bacon said: "Knowledge is power". Use this knowledge and learning to make the best decision for you.